Iari Address and Contact Number
and
Address
is
The Indian Agricultural Research Institute is the research and educational institute for advanced education in agriculture in India. It was founded in 1905 as the Imperial Agricultural Research Institute. Dr Hari Shankar Gupta is the director of the IARI. It has six school namely- School of Crop Improvement, School of Plant Protection, School of Basic Sciences, School of Natural Resource Management, School of Social Sciences and School of Horticultural Science. The main campus of the Institute is located in Pusa, New Delhi, India. IARI provides hostel and transport facilities. The address and contact number of Iari is also used for Iari pusa campus, Iari pusa road, Iari map and Indian agricultural research institute. The contact information like email address, telephone number, website and postal cum official address of Iari is mentioned in below section.
Sponsered Ads
Address of Iari
The address of Iari is Pusa Campus, New Delhi-110 012, Delhi, India.
Contact Number of Iari
The contact number of Iari is
011-25841390, 25843272
.
Email Address of Iari
The email address of Iari is
director@iari.res.in, akjain.egranth@gmail.com
.
Website of Iari
The Website of Iari is
www.iari.res.in
.
Sponsered Ads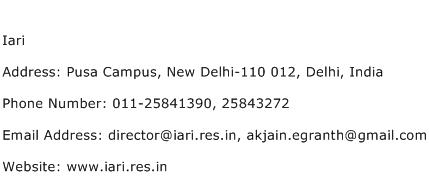 Rating of Iari
2
Click Here

to add rating