Bitag Address and Contact Number
Bitag Contact Phone Number is : (303) 720-7351
and
Address
is
Broadband
Internet
Technical Advisory Group, Inc was formed in the discussion held at Silicon Flatirons Center at the
University
of Colorado
School
of
Law
. Broadband
Internet
Technical Advisory Group was formed to maintain a quality speed of network and act as a coordinated point among engineers. The contact information like email address, telephone number, website and postal cum official address of Bitag is mentioned in below section.
Address of Bitag
The address of Bitag is 1550 Larimer Street, Suite 168 Denver, CO.
Contact Number of Bitag
The contact number of Bitag is
(303) 720-7351
.
Email Address of Bitag
The email address of Bitag is
info@bitag.org
.
Website of Bitag
The Website of Bitag is
www.bitag.org
.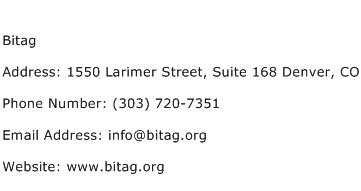 Rating of Bitag
3.9
Click Here

to add rating